Posted: Sunday 9 March, 2008
Our Hubbard meat chicks are now 7 weeks old and will be changing from chick crumbs to grower / finisher pellets over the next week or so. They are all growing well and have (finally) got the hang of the ladder up to the roosting area. This saves us the job at night of putting them to bed! Of course, now they've got the hang of it, they disappear at the first hint of inclement weather - which deprives Tess of her hen TV. They don't seem as active as the chicks we bred and raised ourselves last year, but maybe they're bred not to burn off energy tearing around. They are certainly very docile.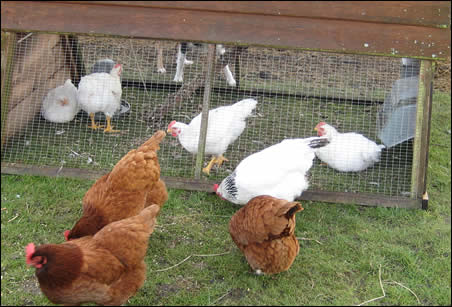 Our Brown Leghorn hen died recently - we assume the fox got her, which is surprising since she was the most alert and flighty of all our hens. She was also the oldest hen we had - we got her in March 2003 so she'd had a decent innings. She was Dan's Dad's favourite, so he has a few of her feathers in the band of his hat!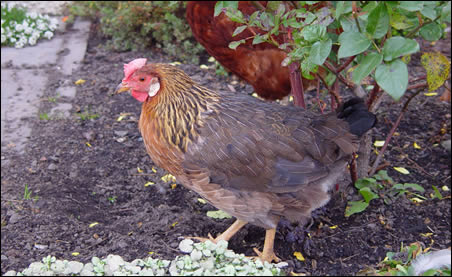 The eleven remaining hens are laying six or seven eggs a day, but we think one is eating eggs. We just haven't identified which one yet. I think it's mainly the Light Sussex and the Black Rocks that are laying - the three RIR are a bit older than these.
We haven't got another cockerel yet and might not bother just now.
A friend of mine has recently taken delivery of three Black Rock pullets - now called Madge, Annie and something I can't spell but which Margaret's wee grandson can say. Her husband has built a superior enclosure in their back garden, so when I visit, I will bring back some photos.