Posted: Sunday 9 March, 2008
It must be a sign of old age. March seems to have come around quicker than ever, and the garden's already coming to life and reminding us that there's lots to be done. We got into the garden for a couple of hours this morning, before the torrential rain came on on, and it was lovely to be out and doing productive stuff again. Although we have pottered over the winter, it's never the same as doing something that has an end product.
I got our tomatoes sown today - Sungold, Gardener's Delight, Sungella and Tamina - and our leeks - Hannibal and Bandit. I added a few articles about growing tomatoes to the site, and plan to do the same with a few of the more popular veg we grow. As the season progresses we'll aim to add more.
The garlic and shallots are in the ground, we've got some mixed salad nearly ready to eat, with more just sown, and last weekend I planted some spuds in compost in big pots, including the Mayan Gold Rosemary persuaded me would live up to the advertising (to do that they'll need to peel and boil themselves).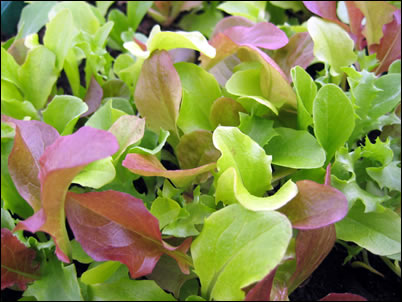 Rosemary got stuck into the fruit garden, weeding, feeding and mulching, and forking in the manure that mulched the salad and potato bed over winter. The hens were happy to help, turning up enormous numbers of enormous worms.
So here's to a good growing season. As ever we're optimistic about doing better than last year, and hope you do the same. If you're growing anything unusual, or trying something new do let us know, either here or in the forums.