Posted: Wednesday 31 March, 2004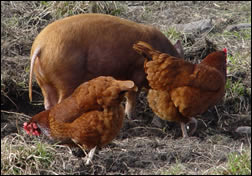 The pigs are doing just fine. They sleep a lot more than last year's, but make up for lost time when they're awake. The pen is already well-turned, and by July should be pretty clean, ready for sowing a green manure and maybe some spuds.
The main worry when planting potatoes on newly cultivated grassland is usually wire worm, but we should be okay - the hens, canny creatures that they are - have taken to following the ploughs that are the pigs, snatching any beasties that are unfortunate enough to be exposed by those powerful snouts.
It's inevitable that some beneficial worms and insects will also suffer this fate, but many will also survive, and from what I've seen the brightly coloured wire worms are more attractive to the hens' eyes than the less conspicuous night crawlers.
Tonight while watering the vegetable beds, in the biting easterly wind, I noticed that the early peas are just starting to show through the soil. The tomatoes, aubergines and peppers are coming along in the greenhouse, as are the herbs Rosemary sowed about 10 days ago - thyme, sweet basil, chives and parsley. The established comfrey plants seem to swell daily, and might be large enough for a few leaves to be had to line the trench for the early spuds next weekend, and the dozen or so offshoots I planted weekend before last are showing signs of rooting strongly already.