Posted: Monday 3 December, 2007
One of my jobs over the weekend was to check and clean our three bird nest boxes. We've had one of them up a few years now, and the others only a year or two. Although there's plenty of hedgerow and woodland in the area it's nice to provide a place for them to nest, and gives us a great opportunity to observe them every day.
Two of the three had been occupied this year. The third isn't well-sited facing as it does into the prevailing wind. There's a hedge just a few yards in front of it, which I hoped would prove to be enough of a windbreak, but it doesn't seem so. I'll move it now to a more suitable location.
Nest boxes should be between 10-20 feet from the ground, facing away from the prevailing weather and out of reach of any curious or malicious cats. They should be well-cleaned every year, in early winter, to get rid of any lingering parasites and to remove any unhatched eggs and old nest material. A dowse with boiling water does the trick and makes sure that any drain holes aren't blocked. As can be seen from this photograph our hens support the wild bird population too, by supplying top quality nest-making material!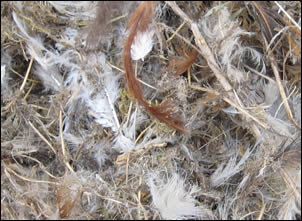 I'll put our boxes back out next weekend once they've dried thoroughly - they provide a good roosting spot for birds in winter when the weather can be wild. This also gives them a good opportunity to recognise the box as a possible site for a nest in the spring. The golden rule is to never disturb your nest boxes between late January and October - just watch and enjoy.
If you're looking to buy a nest box Garden Birds have an excellent selection.