Posted: Sunday 16 December, 2007
It has been the most lovely day here - cold, light wind and sunny. Perfect for pottering in the garden. Or for killing chickens.
Yesterday, Dan and I had our annual trip to Glasgow. Before we had pets and livestock, we used to go to Glasgow regularly - bit of shopping, cinema, dinner, stay over, leisurely breakfast. Friday was our wedding anniversary, so we decided to have a day shoppping, lunch, cinema - by 3pm, I just wanted to come home. Anyway, the consequence of that (apart from my sore feet), is that we had lots to do today - but it was a perfect day for doing it!
You may recall that our cockerel, Hobbes, fell prey to the fox recently. Fortunately, we had three young cockerels, who were destined for the oven. One was therefore reprieved, since he was to replace Hobbes. We planned to kill the other two today. However, yesterday, a friend of ours called to ask if we still had the cockerels as he wanted one as a Christmas gift (Live!). A deal was struck so that left us with one to kill today. So this morning, our new cockerel (now called Horatio) was moved into the hens' ark; the second boy was penned for collection and No. 3 bit the dust. Dan will post seperately on this.
Horatio had risen to his new role admirably; he is certainly doing his duty with gusto and doesn't seem to be missing his brothers at all.
I then spent some time cleaning out the garage - I always want to clean at Christmas. I swept out the hay and other stuff on to the yard, where some of the hens had a rare time sorting through it.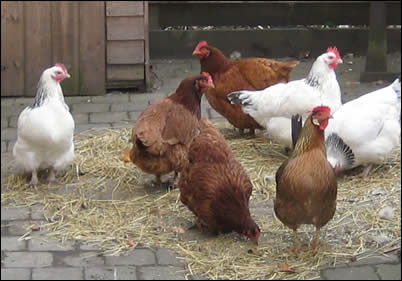 Smokey demonstrated his "cut and shut" look - the "two horses in one" look! He and his mates had a great time racing around and munching the grass on the track. One of the Black Rocks joined them in the field and set about clearing the muck heap!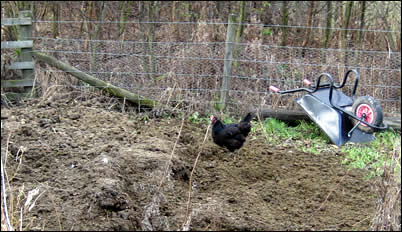 Now that the "batchelor pad" that housed the cockerels was no longer required, I cleaned it, and the hen ark, out. My cleaning kit includes a trug, dustpan and brush, paint scraper (for those interesting stuck on bits) and a scoop for cat litter, which is useful if I'm just "skipping out". I don't always sprinkle louse powder and red mite powder, but I did the "batchelor pad", since it won't be used for a few months.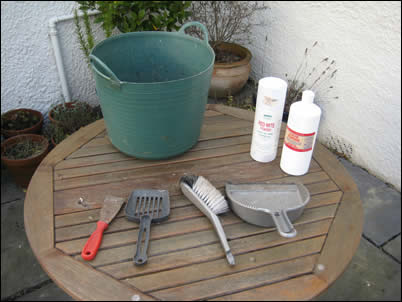 Finally, I scraped the vegetation off the patio. When we had the patio laid, I asked Eddie to leave gaps between the slabs so that I could grow stuff in them. Oh, boy, did I grow stuff - mostly accidentally. Last summer, we MOWED the patio! I had lots of help - Meg sat with me, the hens investigated the weeds and the sheep joined me too. We let them on to the lawn if we're around - small poo, very tidy munching.
Oh, I also made a Christmas cake! Now, I'm going to make a cup of tea and watch "Cranford". Dan and Felix are computing - so I'll leave them to it.