Posted: Sunday 14 March, 2004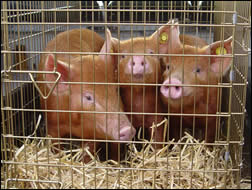 Here are our new arrivals, the 3 Tamworth boar weaners we picked up from Dumfries today. Everything went very smoothly, and we had a great time at the breeder's farm meeting their animals, including some gorgeous Golden Guernsey goats, Ryland sheep and of course Tamworth pigs.
Our pigs have settled in already - after a quick scout around the perimeter of their new home looking for potential weaknesses in our defences they set to rooting and grazing, met the dogs, had a feed and eventually found their way into their ark shortly after dusk.
A big thank you to Pauline, Steve and John for making us so welcome, for the soup, the honey and the pigs. We hope the wee lamb pulls through, and that the salami is less scary than it looked.