Posted: Sunday 14 March, 2004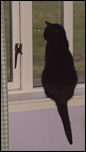 I'm pleased to report that Homer's journey back into the family is continuing. He now makes his way around the house at night, once the dogs have gone to bed. Although he's still nervous around people, he's much more relaxed than he was.
A couple of nights ago, we were sitting in the living room when we heard thumping in the hall. On investigation, this turned out to be Homer chasing his tail and leaping around on the rug. This was the first time we'd seen him play and I have to confess I had a bit of a lump in my throat.
His physical condition continues to improve and I think he'd quite like to go out. He was looking out the front door yesterday when I had it open to feed the hens. I'm not sure if he knows how to use a cat flap, so a wee training session might be in order. I'm just worried that he goes out, gets a fright and bolts, but maybe I'm being over protective.
Mind you, he won't want to go out tonight. It's bucketing rain and blowing a gale. Good night to be in, I think.