Posted: Monday 16 August, 2021
Monday 9th August
Cool, sunny with rain overnight. There's s definite feeling that we're into "late summer" now.
Pretty much a full on office day, with quite a lot of Festival stuff to be done. I don't quite know how this happened – I was only supposed to be doing the online cattle show and the goat show. Hey ho. Interfering old bag syndrome, I guess.
We did wean the lambs so it's quite noisy. But not as bad as weaning calves though; I hope the Quietwean work when we get to that time of year.
Tuesday 10th August
Heavy showers today! But not as bad as in many places.
Got a message last night that the steers had got through the fence at East Pitkerro so Dan was off at the crack of dawn to do a repair.

I took Dan's mum to Ninewells Hospital to have a second cataract surgery. Amazing. Thirty minutes and a transformation.
Dan cut back the willow about three weeks ago. It's fairly coming away again.
The painter came by this evening – he's coming on Thursday to start, so tomorrow I'll be taking down pictures and moving furniture.
Wednesday 11th August
Ponies had sprung a gate last night so the ewes and lambs were mixed, so first job was to separate them again. Only got a few, so it doesn't take long but it's annoying, especially when it was my fault for not securing the gate properly.
Next stop, Dundee to buy paint and compost. Then it was on to emptying the kitchen and dining room. I think the painter will do outside first because it's a good forecast, but who knows. Very odd to see the walls bare and the rooms echoing.
Alistair and his daughter came to see the three BFL ewe lambs, so they're buying them and came back with the trailer in the afternoon to collect them. That leaves Bean the BFL tup lamb, two ewes and two wethers.
Made arrangements for Ace to go to the abattoir on 23rd August. It will be Shotts, as the haulier goes there twice a week. I will be very sad. I AM very sad.
Dan emptied and washed the flat trailer this afternoon as it's going for a service tomorrow.
Thursday 12th August
Spent some time in the vegetable garden, after dropping the trailer at the dealers in Brechin. Did some weeding, cut back the strawberries and raspberries and potted up some strawberry runners. And I gave Smokey a good brush.
Started putting muck on the beds. Rehomed two tiny toads and covered the muck to stop the birds eating all the worms.
Painter here and started on the outside of the house. I'm getting to like the minimalist look inside.
Friday 13th August
Jings, trailer repairs are a bit more than I had hoped; close to £800. Still, it's the first time it's been in since we bought it and we didn't pay an awful lot for it. And we have to have it, so bullets will have to be bitten.
Painter here today, but not back again until Tuesday. I quite like the curtains down in the dining room. It's not the brightest house anyway and it's much lighter without the curtains – maybe I'll take them down in summer and put them up for the winter.
I cleaned out the hens; it's weird how two flocks of hens can be so different. The brown house hens are so clean and the green house hens – well, not so much.
The two white Ryeland x Shetland lambs we have are so friendly. They've been like this since birth. Kit, they're mum, is quite friendly but these guys are so sweet. I might try and get them a pet home.
Went out to fill the cattle's water this afternoon and found Niamh couped. I don't think she'd been stuck long and she was able to get up and walk off when I gave her some help. She was a bit wobbly and obviously bloated. I brought all the ewes back in to a closer paddock. Checked them at 11pm and Niamh seemed fine – she was able to choke down a couple of oatcakes, so I reckon there's no lasting damage.
Saturday 14th August
Having mucked out the barn yesterday, today I lifted some of the mats and checked all the drainage, cleaned it and put down Stalosan. It was not a nice job, but it's done.
Dan picked the last of the peas and pulled out the haulms, which went to the pigs for a rummage. I weeded the bed, ready for manure and black plastic.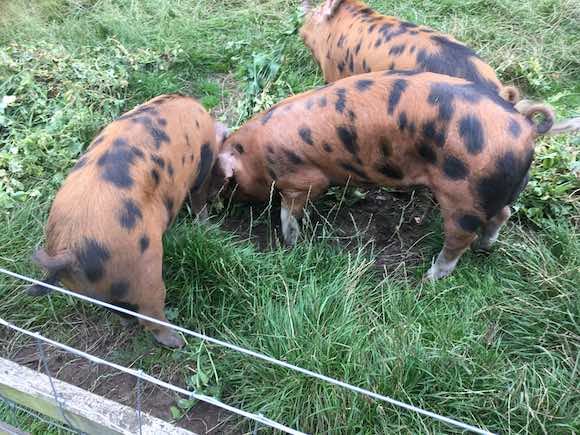 Pigs enjoying a rummage in the pea haulms.
Then Dan started to put up the flagpole that he bought me for Christmas maybe six years ago. We can't find the fixings but I'll have a good look later. I know I saw them somewhere.
Andy came over to cut wood with Dan but the chainsaw's broken, so it will have to go in for repair next week. Deep joy.
Sunday 15th August
Bit of a pottering day today; delicious lamb flank for dinner, with butter beans, broccoli, peas, French beans and potatoes. All ours apart from the red wine and butter beans.