Posted: Monday 10 April, 2023
Monday 3rd April
Cool but sunny this morning; traces of ice on the water troughs, but full sunshine.
Today was the day to give the cattle the flukicide. I was a bit concerned that they – Rora in particular – wouldn't eat their feed with the medicine in it so I added a good dollop of black treacle to the feeds – and they nearly ate the buckets. Job done!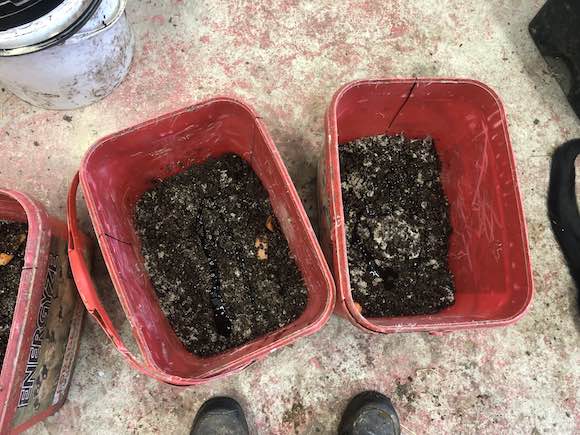 Feeds plus flukicide, treacle and carrots.
I set French and runner beans to sprout.
The chooks are settling in. They have been named Merida, Elsa, Ariel and Princess Leia (Layer).
Tuesday 4th April
Our new farrier was here today. Smokey was as good as gold. He knows, you know.
Baby is developing quite an udder.
Two comfy baskets. And Bertie. What goes on in his head?
Wednesday 5th April
I made muck tea – and my new sieves from Lidl mean it doesn't clog up the watering can now. The greenhouse smells faintly of horse.
Six strawberry baskets planted up and some sweet peas planted in the polytunnel.
Thursday 6th April

Dan finished fencing the Nursery, ready for new calves. And new mums.
Saturday 8th April
The chooks now have a perch; 25% of them found it tonight.
And flowers are coming on the strawberries in the polytunnel.
Sunday 9th April
Dan continued harrowing; he's done Sheepfold, Near Ditch and Home, and he's spread P&K fertilizer on Sheepfold. I'm thinking about trying to get it reseeded. Then he headed off with the chainsaw to start cutting up the trees in Home that Duncan and his men brought down a few months ago.
I've been tidying up the garden, planting some perennials I bought last week and sowing more seeds – sweetcorn, butternut squash, cucamelon, watermelon, cucumber and courgettes - and planting upthe French beans.
Weatherwise, it's been quite variable this week. Some lovely warm, dry and sunny periods, but cooler, rainy ones too. Still. April showers bring May grass. Or something similar.