Posted: Monday 26 December, 2005
I was reflecting today on how the winter sun makes strange bedfellows. The search for warmth has lead to Felix and Cassius sharing the sheepskin pads on the windowsill. Cassius is remarkably tolerant of Felix - in fact, I think he quite likes him. The photo says it all!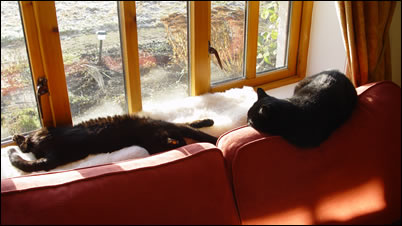 Both now sleep on our bed, Felix at the top and Cass at the bottom. Felix sleeps on my pillow, above my head. It's great just now - like sleeping in a fur hat - but it might be too much come the summer.
Most surprisingly, Cass and Felix have been seen to play together - Felix chased (!) Cass behind the curtains, following which there was much batting of the curtains from both sides.
For sure, I never thought I would see that!