Posted: Saturday 19 March, 2011
We bought a new henhouse recently. We intend to run three 40 bird flocks - hence the Black Rocks day olds. I approached a local business that makes sheds and the like and they were keen to build the henhouse.
Dave and Murray came down and sketched the existing house, took measurements and built the new one. They delivered it a couple of weeks ago and it's very good. The best bit is that it's high enough for me to stand upright in, which makes cleaning easier and improves ventilation. There were a couple of things not quite right but we've discussed them and they're coming to make the modifications on Monday.
Because of the flooding in the Orchard, we moved the hens into the house on Wednesday night - John, Rebecca and I, with young Sam as gatekeeper. John and I put up a new fence round the house - it's only about three foot high but the hens don't seem interested in flying it, fortunately. It's not as big as area as I would have liked, but at least it's dry.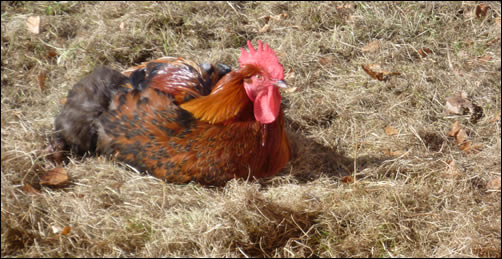 The grass in the run wasn't grazed last year so there was lots of thatch - but the girls are sorting it out. Today I took five wheelbarrow loads off the run - and there's more to come off tomorrow. We might look at moving the fence to cover more of the paddock and let them do their stuff - who needs a harrow!