Posted: Sunday 15 February, 2004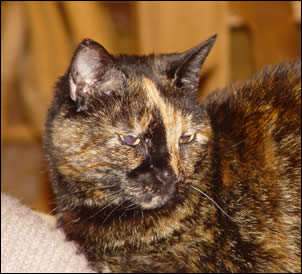 This afternoon the latest (and last for the time being) addition to our domestic menagerie arrived. Copper is a 13 year-old female tortoiseshell cat who until today lived with a work colleague. Unfortunately the arrival of a new baby has turned out to be too much for said colleague, and we heard about Copper via an advert on the work intranet.
We're delighted to have her. She's only been here a few hours but we already have no doubt that she will get on just fine with our two existing cats, Cassius and Homer - she's met both without incident - and the dogs. She'll spend a week or so confined to the house, and next weekend we'll open the cat flaps and let her explore the garden and surrounding countryside. We know we may not have her long, but we'll do our best to make sure what time she does have here is as happy as possible.
On the subject of cats, we had Cas at the vet yesterday for a routine booster. We mentioned to the vet that we had taken Homer from the CPL just before Xmas, and that we hadn't been able to get him into a cat carrier to see the vet (he makes himself about 4 feet wide at the sight of his carrier). The vet suggested we try a plug-in pheromone diffuser, which creates a so-called 'Happy Cat' environment which cats find calming. Well, we got one (a Feliway) and it works! Within an hour Homer could be approached without hm moving away or exhibiting any of his usual nervousness. It's a shame we didn't know about it before, but we're glad we do now.