Posted: Saturday 25 November, 2006
Alloa used to be a port with a substantial shipbuilding industry. The docks are now long gone but hey! there's a boat back on the Forth. A local businessman has started running cruises on the Forth, from Alloa to Stirling. The boat is called "Maid of the Forth" and here she is.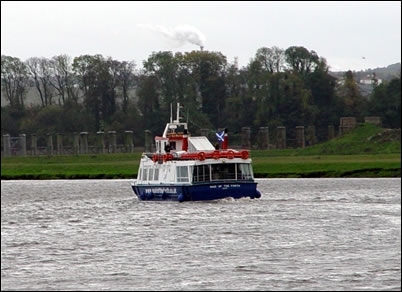 This was taken at the end of October, I think. The boat went up on our side of the Inch and back on the other side. There were a few cruises in the summer and I think more are planned for next year. I'd like to go on one - it would be interesting to see the area from a different perspective.
I do think that the river and its waterfront are vastly underexploited assets in Alloa but I'm sure things will change in the next few years.