Posted: Sunday 24 September, 2006
One of the first bits on content added to our site was my short guide to growing garlic. In my enthusiastic naivety it was intended to be the first of many growing guides, but here we are over 3 years later and it's still a wee orphan. Anyway, I digress. We get a lot of visitors to the site arriving from Google and other search engines searching for information on growing garlic. Originally the guide suggested that buying and planting supermarket garlic was the best way to start, and would give perfectly good results.
But after a couple of years of disappointing crops of small, indeterminate garlic, it finally dawned on me that maybe there was something to recommend the garlic cultivars offered by specialist growers. So last autumn I bought and planted some Solent Wight and Purple Wight bulbs from the Garlic Farm, located on the Isle of Wight. The results have been excellent, and the guide has been updated accordingly - if you're growing garlic buy the best possible stock.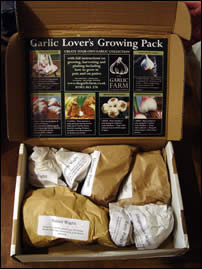 This year I've gone a step further and acquired a Garlic Lover's Growing Pack from the aforementioned Garlic Farm. It's advertised as featuring 6 different type of garlic, but ours came with 7 (we might just have been lucky):
Solent Wight
Early Purple Wight
Elephant Garlic
Albigensian Wight
Iberian Wight
Lautrec Wight
Heritage Purple Moldovan
The Elephant Garlic will draw the crowds - the individual cloves are the size of the whole heads of garlic you'll buy from the supermarket, and the plants grow to 5 foot tall apparently - but the descriptions of some of the other varieties in the excellent notes which accompanied the box had my mouth watering, especially the Lautrec, reputed to be the ultimate for flavour.
Following the expert advice of Colin Boswell at the Garlic Farm I planted all but the Solent Wight yesterday. The hardest part was keeping track of what I'd planted where with so many types, so I've made good notes for once!
The Solent Wight will go in the ground in January, but in the meantime we need to convince it that it's still summer. I've also picked up some tips from the notes which should ensure we get the best possible crop - like removing the flowering heads when they appear, which can increase the ultimate size of the bulbs by up to 20%.
At a time of year when we're mostly lifting produce from the vegetable garden and clearing beds it's really nice to be able to plant something that will pay dividends next summer. I'll post from time to time with progress reports, and come next autumn we'll do some taste tests.