Posted: Sunday 19 September, 2010
Well, men and women and boys, in fact.
This weekend's project was to demolish the old stone and timber shed inside the opensided barn. Saturday saw Dan, Tony and Rebecca, our neighbours, their boys, Sam and Alex, and our chum, Karen and I all ready to go.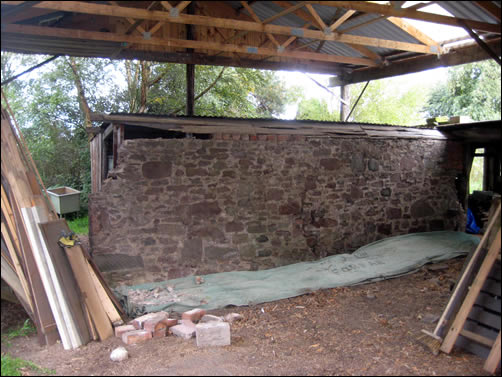 Dan was up early and started taking off the top course of bricks, then Tony arrived and took off the wriggly tin roof. Tony then took down the wood cladding, while Karen stoked the fire and burned the rotten wood. Meantime, everyone else was knocking down the wall or taking way the stone or clearing the old mortar. Except Sam and I, who went shopping for lunch and for stuff for a barbeque - someone has to be the catering corps!

I can't believe how much was done - everyone mucked in and worked really hard and we're very grateful to them. The four dogs - Tony and Rebecca have two lovely Labradors - ran around endlessly and we finished with a "nearly barbeque". We wrapped potatoes in foil and cooked them in the fire and did the burgers and sausages in the frying pan; we ate in the barn. Rebecca brought a yummy chocolate cake, which we demolished, then just in case we hadn't eaten enough, we toasted a few marshmallows on the fire.
By 8.15, we were all pooped out. Even Sam, who has boundless energy, took himself off to bed. We've hardly seen our dogs today.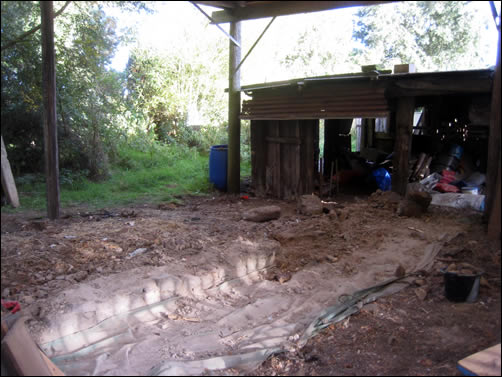 But what a result! New big clear area in the barn, ready for....