Posted: Monday 21 September, 2020
Monday 14th September
High cloud, some sunshine and the wind's dropped, thankfully. Smokey was an absolute star this morning, so I think we'll be OK now.
We've seen a hedgehog in the garden (either the same one several times of several hogs – they don't have many distinguishing features!) so we put the hedgehog box (an upturned plastic crate with an entrance cut in it) in the vegetable garden. I put cat food in it last week but forgot to check it until yesterday and it was empty; put more out last night and it's empty this morning. I hope it's the hog(s) –be nice to do something good for them.
Into Forfar for bedding – 40 bales of Fresh Bed. Getting ready for winter!
Tuesday 15th September
So warm. Unloaded the forty bales of Fresh Bed – was dripping sweat (I know you didn't really need to know that). Then it was off into Laing's Filed to pull ragwort and put new batteries in the Shrike for the electric fence. The cattle will be going out there later in the week.
Egg production has gone up as most of the nine(!!!) broodies in the green henhouse resumed normal duties. One still hanging on, and one on the brown henhouse, but things much improved.
Robbie the pest control man was here tonight. Shot five rates in the feed store with his very smart gun with IR and night sights. And there were two dead rats in the water bucket. We will prevail.
Joiner here today; one wall framed and boarded.
The cats were sunbathing.
Wednesday 16th September
Joiner here this morning; electrician in this afternoon, so that's the cables all dropped for the sockets. Plasterer coming Monday 28th. New door being delivered this coming Monday so I'll get it treated with preservative then. Much easier when there's no door furniture on it. Need to think about flooring and shelving.
Spent quite a lot of the day on the Shetland cattle Twitter week. I just want to get it finished and the tweets scheduled.
The courgettes are nearly spent. They're still flowering but the fruits are pretty slow-growing now. I picked a few for the pigs, who love them. So do the hens, but they like them sliced.
Dan managed an hour away from his desk to top the two top paddocks. We've had sheep and cattle on them, so the grass is quite short. Good opportunity to give the rushes another hit before winter.
Quick Festival meeting this afternoon then back to the Twittersphere, then the on-line AGM of the Scottish Farm Land Trust.
Thursday 17th September
Cooler but a beautiful morning. I am now officially all tweeted out, but it's done. Seven days, seventy tweets. What a blooming marathon. Still, if it helps to get the word about Shetland cattle out there, it will be worth it.
Dan took the dogs for a walk this afternoon. Bryn loves to swim.
Friday 18th September
Another glorious autumn morning. Moved the cattle into Laing's Field; Annie has a sore on her back so did some first aid with blue spray and Spotinor. Just at turnout isn't the time to ask for co-operation but once her belly is full, I'll have a better look.
Didn't sleep well last night – awake at four with brain churning, so feeling a bit ragged.
Finally planted out the lavender; Meg's patio should be lovely next year.
The fuchsia hedge is coming into full bloom and is moving with bees. We saw fuchsia hedges on Islay a few years ago and just loved them. It comes into its own now but could do with something - maybe clematis - growing through it for early colour.
Moved the cattle into Laing's Field. Annie's got a wee sore on her back – looks like an abscess where she had a number of injections last year. It's open so I sprayed it twice with blue spray and put some Spotinor on her back. No point expecting her to co-operate until her belly is full. Blizz had a huge pad of fat on her back – I hope we can convert it into cheese over the winter.
Popped up the B&Q to pick up two metal dustbins for horse feed and a new broom for the feed store. All part of Ratwars.
Saturday 19th September
More lovely weather, although it's forecast to break next week. Bagged up the Carolus potatoes, while Dan sorted apples to go on our fruit stand at the end of the road and cooked more apples for freezing. I'd like to juice some to make spiced apple juice for Christmas gifts, but Dan won't have time. I've asked a couple of chums if they want to do a joint venture. It's a faff to set up to press for a few bottles.
Dan got the chainsaw out and cut up more old pallets, splitting the wood for kindling. Is it in our genes to prepare for winter, even if we don't have to, in these modern days? Maybe smallholders are just less evolved than most folk. Picked some peas – the plants are still flowering, so although I planned to pull them out, I'm going to leave them a wee bit longer.
Planted out cabbage, cauliflower, calabrese. Some the courgettes are done so pulled them out, and did a bit of weeding. I need to tackle the bed where we're going to put the rhubarb but not today.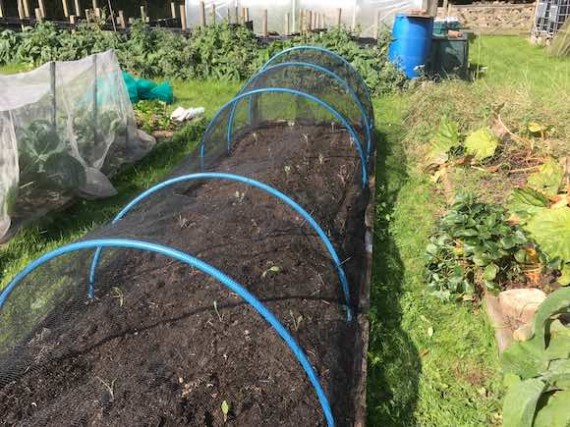 And all planted.
I started to turn out the feed store. I'm going to take out as much non-feed related stuff as possible to give Robbie a better go at the rats. There's much less activity already. It's good to get stuff turned out and cleaned anyway; it'll be going in the barn when Dan finds me a space.
Smokey's now on one session of inhaler a day – but 12 puffs each session. He's really been very good. I really hope it works – he looks less wheezy already.
Annie's back looks better, so more blue spray applied.
Sunday 20th September
We must have had some rain overnight although it wasn't forecast. That's good though because the soil was pretty dry yesterday when I was planting the brassicas. After doing the morning round, I went back to bed with a cup of tea. I maybe had a long blink.
Clearing a space in the barn for me started Dan cleaning down his bee stuff, then Andy arrived and they set to cutting up more scrap wood for burning. I spent most of the morning cleaning out the feed store and moving non feed stuff to the barn. Found a few things that we don't use that can be sold, so took some photos of them, posted them on FB and some have sold already. The barn looks much tidier and once the sold stuff has gone, it will be even better.
Annie's back continues to improve and no sign of any flies near it.
Robbie arrived this evening for another rat-attack. We shall find out the result in the morning!