Smallholder Magazine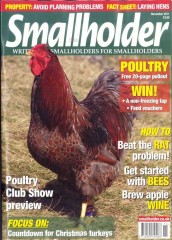 Subscriptions & prices
Smallholder magazine is the definitive magazine for Smallholders and home farmers. First published in 1910. The magazine has a large property and classified section along with a Stock and Stud guide, letters and articles. This is a must buy magazine for Smallholders and anyone thinking of becoming Smallholders.
Packed with advice on how to look after your animals and farm, as well as large property and classified sections, you can also pick up tips and hear stories from other smallholders with articles and letters.
So no matter how you're getting on with your smallholding, you can feel safe in the knowledge that others are experiencing the same kind of issues and enjoyment with a Smallholder magazine subscription.
There's also a Stock and Stud guide to help you through the basics of buying and breeding your own livestock, and running a smallholding.