Practical Sheep, Goats & Alpacas Magazine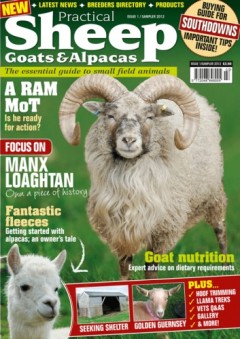 Subscriptions & prices
Practical Sheep, Goats & Alpacas is a new quarterly magazine from Kelsey Publishing Group aimed at sheep, goat and camelid keepers and breeders. The first issue is dated 2nd May 2013.
The magazine is an informative and entertaining 'one-stop-shop' for enthusiasts, providing straightforward, down-to-earth contents covering all the essentials.
Readers will enjoy regular, in depth livestock buying features, practical articles on key aspects such as breeding, housing, feeding and husbandry, owners' stories, plus a look at dairy and fibre opportunities, health and welfare-related Q&As, delicious recipe ideas, regular competitions and a unique breeders directory.
Practical Sheep, Goats & Alpacas is the first point of contact for people wanting to keep these farm animals. The magazine will help readers decide on the breed for them and source the breeders.