Home Farmer Magazine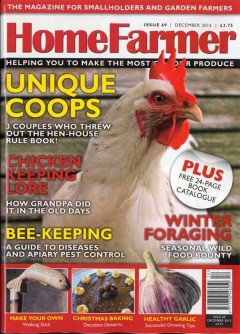 Subscriptions & prices
NB: Home Farmer is now out of print.
Make the most of your garden, allotment or smallholding with Home Farmer, your essential guide to growing, raising and cooking your own food.
More and more people are growing their own food, in residential gardens, allotments and smallholdings. Home Farmer shows you how to maximise the potential of your plot from growing your own fruit & vegetables to keeping your own chickens, ducks, pigs or even bees.
Home Farmer Magazine shows you what to do and when and includes practical how-to guides for specific projects such as building your own hen-house. Every issue of Home Farmer is full of practical money-saving tips and advice. And when it comes to harvest time, Home Farmer shows you how to make the most of your produce with mouth-watering recipes, from tasty salads through to wholesome soups, from baking your own bread to making your own beer & cider.
Home Farmer Magazine is aimed at the growing number of people who are looking for a better quality of life: healthier food produced without chemicals whose journey from plot to plate is measured in feet, not miles. It is dedicated to helping you realise your lifestyle dreams with articles on diverse subjects such as making your own sausages, baking, urban poultry keeping, beekeeping, caring for animals on a small acreage, dealing with neighbours and much, much more.