Grow Your Own Magazine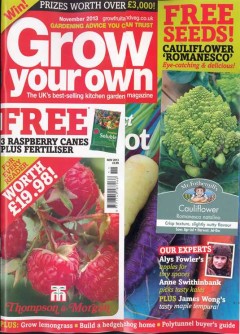 Subscriptions & prices
Grow Your Own magazine helps you learn how to plant, grow and nurture mouth-watering fruit and vegetables and take them from your garden to your plate. This magazine will often provide a free packet of vegetable, flower or other plant seeds and aims to provide valuable information as much for those living in flats as for those with blossoming gardens and allotments.
Growing your own fruit and vegetables has become much more popular in recent times and this magazine will provide you with all the know-how.
Want to discover how to grow your own fruit and vegetables as well as learn the secrets of a country kitchen? Then this is the magazine for you. Grow Your Own magazine is a real treat as well as essential reading.