Grow It! Magazine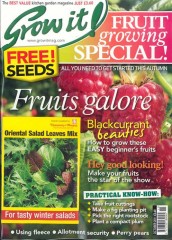 Subscriptions & prices
Grow It magazine is for those interested in growing their own produce at home, from small kitchen gardens to large allotments and smallholdings. Grow It has plenty of monthly features including diaries, competitions, a gardening "agony aunt" who can help with your problems, and tips for children to get involved. It's a really great magazine and brilliant for first time vegetable growers.
Grow It magazine - Covering anything that's edible and possible to grow in the British Isles, Grow it! has a keen focus on organics and polytunnel/greenhouse growing to make the most of a healthy harvest each growing season.
Grow It magazine is packed with helpful tips and special offers it's the essential read for anyone looking to grow their own food.