Amateur Gardening Magazine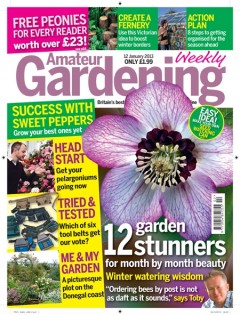 Subscriptions & prices
Amateur Gardening magazine is over 125 years old, having been first published in 1884. It is a magazine with real pedigree, having hosted articles from writers such as Alan Titchmarsh, Charlie Dimmock, Monty Don (of BBC Gardeners World), Bob Flowerdew, Anne Swithinbank (who now writes for Grow It!), Percy Thrower and more.
Amateur Gardening is also Britain's best selling weekly gardening magazine, and it even boasts its own successful annual consumer show called "The National Amateur Gardening Show (NAGS)".
The magazine is packed with useful hints and tips on how to create a beautiful garden, with advice on maintenance and lots of inspiration. Each issue features a Q&A and the latest gardening news.
Amateur Gardening is an extremely practical magazine, with great step by step tutorials and guides with stunningly clear photography.
The magazine is designed to be taken out to the greenhouse or potting shed to accompany you on your gardening projects, and act as a reference material for your gardening projects.