The TAS Shop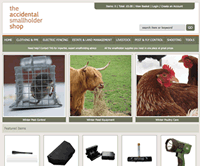 The TAS smallholding shop stocks the most useful and commonly required products you are likely to need around your smallholding.
Our shop is a new venture for us - we know how frustrating it can be to spend hours trying to find the right product at the right price when really, you'd much rather be outside being a smallholder.
So we've done our best to produce the smallholding shop we've always wanted - a shop with a huge range of products at competitive prices and backed up by excellent customer service.
Our staff are happy to answer questions about all aspects of smallholding - livestock husbandry, fencing, grassland management. As well as being qualified and experienced themselves, they also have access to expert advice from suppliers and manufacturers - so just ask!
Visit the The Accidental Smallholder Shop »
TAS badges and t-shirts
We have TAS t-shirts and badges for sale. They are a great way to identify other TAS members at shows, sales and down the pub!